2014 Burlesque Hall of Fame Tournament of Tease: Best Group, Best Troupe, Best Boylesque
June 7, 
2014
Orleans Showroom, Las Vegas, NV
Continuing on with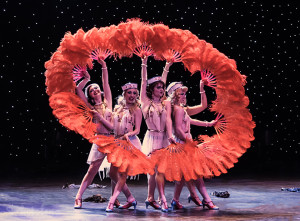 coverage of the main event at the Burlesque Hall of Fame, the Tournament of Tease showcase, with competitors vying for Best Group (which used to be Duets – 2 people and Groups – 3 or more – but now have been consolidated for some reason although it seems they're really not the same but whatevs), Best Troupe, and Best Boylesque crowns…
Group
Competitors in the Best Group category came from across the globe and two different continents this year. From Japan – a destination at the top of my bucket list – we had Circus de Moccos, made up of Coppelia Circus and Gilbert de Moccos who competed individually at BHOF 2013. Their adorable quirky twin number was like a surreal Saturday morning stripping cartoon – two bright orange haired clowns dancing and joking around while they pull each others clothes off piece by little piece like pranks being pulled by siblings. It was weirder still to see them in the Orleans during intermission in those costumes – did I ever mention I have an intense fear of clowns?